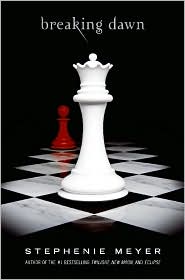 I went to a release party on Friday night for the new Twilight book, Breaking Dawn with some friends from my new ward. It was actually a lot of fun. They had a trivia scavenger hunt, a pin-the-tail on the werewolf game and a trivia showdown. It was fun to be there at midnight when we all got to rush in to buy the books. I hadn't pre-ordered one, so I was way at the back of the line, but one of my new friends (who also had not pre-ordered) won a raffle and got to be 5th in line and she was able to get one for me, so that I didn't have to wait. Thanks, Karen.
By the way...four of the five women above are pregnant...there are 22 pregnant women in our ward at the moment. There must be something in the water!!
I ignored my family all of yesterday and part of today and finished the final book in the series. It was great...I can't wait to be able to discuss it, but I won't post any spoilers here yet. I am, however sad that the story of Bella and Edward has come to a close. I am always sad at the end of a series. But I am sure I will get over it, in time!